Our Team > Bill Cannon
Bill Cannon
Lawyer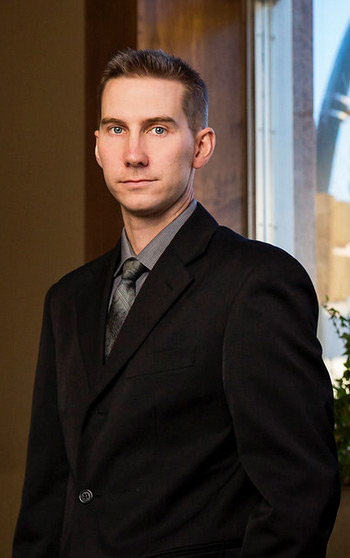 Bill was born in Fort McMurray, Alberta, but grew up in Prince Albert and went on to complete a Bachelor of Sciences degree at the University of Saskatchewan in 2005, with a major in Computer Science.  In 2006, Bill left the country to attend law school at what is now the Thomas Kline School of Law at Drexel University in Philadelphia, Pennsylvania, U.S.A., which was the first law school in the United States to offer and concentrate on on-the-job training as part of the law school curriculum. In his final year, Bill spent 6 months working under Alan B. Epstein, Esq., at the midsize firm of Spector Gadon & Rosen in downtown Philadelphia and ultimately graduated from law school in 2009 with a concentration in Business and Entrepreneurship Law. Bill then successfully challenged the Pennsylvania Bar Exam and was admitted to the Pennsylvania Bar in summer of 2009 but returned to Canada to pursue his legal career at home in Prince Albert.
Bill completed the Federation of Law Societies of Canada national accreditation requirements while articling with Novus Law Group and was admitted as a Member of the Law Society of Saskatchewan in September of 2011. Bill specializes in Real Estate, Wills & Estates, Estate Planning, and Commercial & Corporate Law. In particular, Bill specializes in agricultural aspects of these various areas of the law, including detailed succession and estate planning, and is a Certified Farm Advisor through, and member of, the Canadian Association of Farm Advisors.
Prior to becoming a lawyer, Bill had very diverse employment experiences working in many areas including being a bartender, security guard, salesperson, tennis coach, and running his own finishing carpentry company in Calgary, Alberta. Bill has also always had a passion for sports and remains heavily involved in many sports, particularly football, golf, and soccer. Bill currently volunteers as a coach with the senior football team at Carlton Comprehensive High School in Prince Albert, spends much of his summer working on his golf game (some say obsessively so), and spends his winter hours playing in the Prince Albert Senior Men's indoor soccer league.
Areas of Practice: